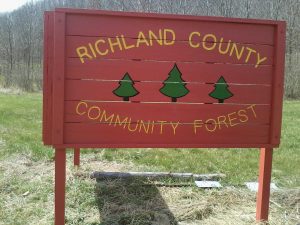 Richland County, Wisconsin
Located in southwestern Wisconsin, Richland County is in the Driftless Area of the upper midwest. This name comes from the fact that the area was unglaciated during the most recent glacial event about 12,000 years ago. Glaciers surrounded but did not pass over this land.The area abounds in caves and sinkholes and has residual, well-drained soil. As a result, the topography is more rugged than that usually associated with the Midwest.
In addition to unusual and beautiful scenery, Richland County, in the heart of the driftless region, is home to some of the best trout fishing in the United States. Years of work with landowners and farmers to reduce erosion that contributed sediment to our spring-fed streams has resulted in more quality fishing opportunities.
The Land Conservation Department, working in cooperation with a wide range of local, state and national groups, continues to be actively involved in numerous conservation-related efforts. Look around our website and contact us if you have any questions.
Wisconsin Working Lands Initiative (FARMLAND PRESERVATION)
The Wisconsin Working Lands Initiative was passed as a part of the state's 2009-2011 biennial budget process. Components include: expanding Wisconsin's Farmland Preservation Program; establishing Agricultural Enterprise Areas; and developing a purchase of agricultural conservation easement matching grant program. The goal of the Working Lands Initiative is to achieve preservation of areas significant for current and future agricultural uses through successful implementation of these components. See Wisconsin Working Lands Initiative link for more information.  Contact Kent Marshall at the Land Conservation office at 608-647-8874 ext 121 
Remember to Like us on Facebook